Know What Type of Fence You're Looking For
Before you install a fence, its important to first ask yourself the purpose of the fence. Are you trying to add a decorative element to your home? Maybe you're trying to create privacy for your family? Whatever your purpose, a fence can function in many ways so do your research and choose one that works for you!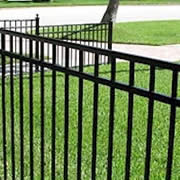 Do Your Research Into Building Codes
Installing a fence is not as easy as buying the material and putting the labor in. Its crucial that you research your homeowners and neighborhood association codes. These regulate the rules for fence height, look and material. Its also important to outline your property line so the fence is properly installed on your actual property and not your neighbors.
Be Courteous of Your Neighbors
To avoid any confrontation down the road, it's important to be open and up front with your neighbors about your plans to install a fence. If your neighbor decides to share the fence, make such agreements in writing and only after the property boundaries have been professionally determined.
Consider the Climate Factor
When deciding which fence to choose, factor in the climate aspect of where you live. In colder climates, anchors may be needed and a certain depth for posts should be secured in order to avoid cracking in a cold snap. In warmer climates, vinyl is your best material as wood is susceptible to water damage.
Hire Professionals
Professionals understand the intricacies of zoning, permits and fencing requirements that come with the job. While many companies can help you design a great looking fence that will be the envy of the entire neighborhood, only local companies know how much that six-foot fence is going to cost you, by way of a free estimate.