Welcome to Best Fence & Rail of Florida, a veteran-owned fencing company with a rich legacy of serving North Florida for over 25 years. Our commitment to excellence and quality craftsmanship sets us apart as leaders in the industry, and we take pride in offering top-notch vinyl fences that add beauty and functionality to your outdoor space.
Unmatched Durability and Aesthetic Appeal with Vinyl Fences
Our vinyl fences are designed to stand the test of time while enhancing the aesthetics of your property. With three standard colors—white, tan/sand, and khaki/clay—along with nine multigrain color options, including weathered aspen, mesquite, dark walnut, coastal cedar, and more, you have the freedom to choose a style that perfectly complements your home.
Vinyl fences not only offer durability and low maintenance but also provide a beautiful canvas for seasonal decorations. As we approach the festive season, consider incorporating these decorative options to infuse some holiday cheer into your vinyl fence.
1. Wreaths and Bows:
Adorn your vinyl fence with wreaths made from holly, pinecones, and bright red bows. These traditional symbols of the holiday season bring a warm and inviting atmosphere to your outdoor space.
2. String Lights:
Hang string lights along the length of your vinyl fence to create a magical ambiance in your yard. Opt for classic white lights or go for vibrant, colorful ones to evoke a festive spirit.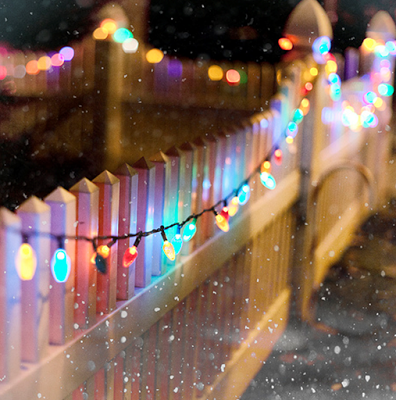 3. Garland and Ornaments:
Drape garland along the top of your vinyl fence and hang sparkling ornaments to add a touch of elegance and holiday glamour. Choose ornaments that match your preferred holiday color scheme.
4. Stockings and Candy Canes:
Hang stockings or candy canes from hooks on your vinyl fence to evoke a sense of nostalgia and Christmas charm. It's a delightful way to bring the holiday festivities outdoors.
Our Promise: Quality, Integrity, and Unwavering Dedication
At Best Fence & Rail of Florida, we stand by the quality of our vinyl fences. Every fence we install comes with a lifetime manufacturer's warranty, showcasing our dedication to customer satisfaction and confidence in our products. Additionally, we offer a 3-year labor warranty, ensuring your investment is protected and supported.
When you invite our team into your home, rest assured that our employees are never subcontracted. We take pride in personally handling each project, ensuring that your vinyl fence is custom laid to fit your unique yard and requirements.
Contact Best Fence & Rail of Florida today to transform your outdoor space with our exquisite vinyl fences and experience the magic of the holidays right at your doorstep. Trust us to make your fence a statement piece, not just during the holiday season but all year round.
***
Best Fence and Rail of Florida is Jacksonville's industry leader in fabrication and installation of top-quality vinyl and aluminum fencing. At Best Fence, our mission is to fabricate and install the highest quality product at a competitive price, while providing unsurpassed Customer Service. Fencing is an investment in your home. Your decorative fence design choice adds value to your property in a beautiful way. We provide professional FREE estimates at your convenience. Call us today at 904-268-1638 or visit http://www.BestFenceJax.com