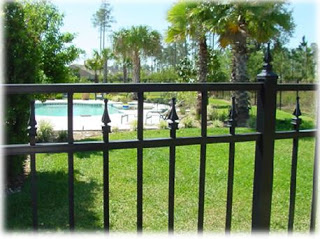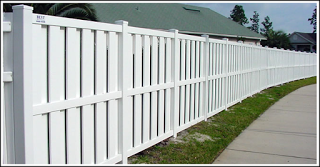 It's no secret that vinyl and aluminum survive the elements longer than wood, but do you know exactly why? Best Fence is here to inform you how wood deteriorates in Northeast Florida's environment and that choosing to install a wooden fence will call for frequent maintenance.
Northeast Florida experiences a highly corrosive and humid saltwater environment which can cause wood to deteriorate, chip, warp and crack. Wood can last if it stays dry, but that's almost impossible living near the east coast of Florida. Because of this, wooden feces tend to break down; posts and planks fall down requiring frequent maintenance which can be expensive. The starting cost may be cheaper with a wooden fence, but years down the line maintenance costs will catch up to you and will outweigh the cost of a vinyl or aluminum fence.
Vinyl fences can outlast Florida's hot, humid climate. They are constructed with high quality, heavy walled extrusions that are virtually maintenance free, providing beauty that will last for years to come. Vinyl fences come in many different styles and colors and are great for keeping in kids and pets. Whichever style you choose, Best Fence can assure that your new vinyl fence will outlast that old wooden one.
Best Fence's aluminum fences are another great option for a maintenance free, reliable and stylish fence that will last for years. Our aluminum fences are constructed with heavy wall aluminum extrusions and finished with a powder coating. These fences have been tested in Florida's hot, humid, high-salt environment and have passed the 3000-hour salt spray test. This means that our aluminum fences are built to last, and are always a good option for keeping in kids and pets. Our aluminum fences can always be customized and colored to your pleasing and the best part is…no maintenance costs!
Is it time to ditch the rotting wooden fence? If you'd like to add some style and functionality to your property, choose an aluminum or vinyl fence from Best Fence. Call today! 904-268-1638
***
Best Fence Company is Jacksonville's industry leader in fabrication and installation of top quality vinyl and aluminum fencing. At Best Fence, our mission is to fabricate and install the highest quality product at a competitive price, while providing unsurpassed Customer Service. Fencing is an investment in your home. Your decorative fence design choice adds value to your property in a beautiful way. We provide professional FREE estimates at your convenience.  Call us today at 904-268-1638 or visit http://www.BestFenceJax.net