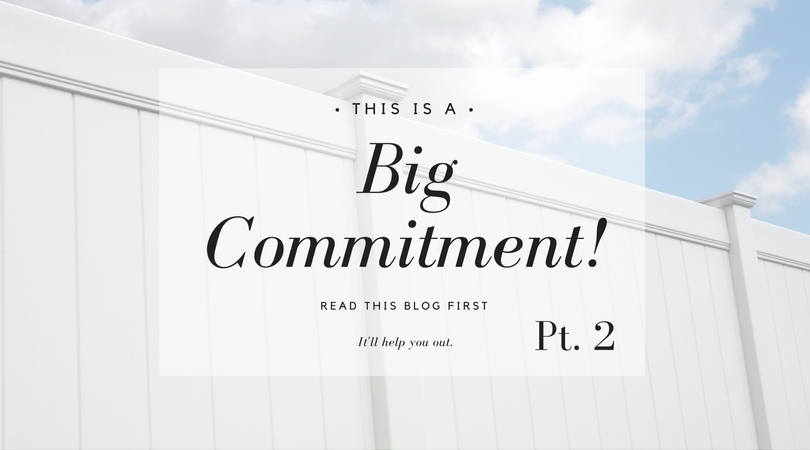 o          What Material Should You Use?
If you were thinking about using wood, think again. While the lower initial buy in price of installing a wood fence may be attractive, there is much more to it than meets the eye. Wood fences require immense amounts of upkeep and maintenance to make them last. They need to be repeatedly sealed and even then can warp and rot over time, leading to repair after repair. This can make that cheap wood fence turn into one of the most expensive fences on the block. We would highly suggest you use a modern low maintenance material such as vinyl or aluminum. While they may cost slightly more upfront, they will last exponentially longer than wood, and they require a minimal amount of effort to keep them looking their best.
o          HOA Rules
Many homeowners' or neighborhood associations have specific rules and regulations regarding fencing. You need to be fully aware of what these are before beginning construction on your new fence. There may also be city regulations about how close your fence can come to a sidewalk or property line. Luckily for you Best Fence will help you with this step! We will work with your homeowners' association, submit any applications that you may need to get approved, and get your permit work done as well. This is just one of the many things that puts the Best in Best Fence.
o          Do I Really Need a Professional to Install a Fence?
Yes. Installing a fence is harder than it seems. It is definitely one of those home improvement jobs that if you start it yourself, you'll wish you didn't. Hire a professional company like Best Fence of Jacksonville to install your fence. At Best Fence we offer a lifetime warranty on your fence from the manufacturer as well as a three year installation warranty. On top of that we take care of the hassle of dealing with the HOA and any logistic work that most people don't think about when thinking about getting a new fence.
o          Should I Change my Landscaping to Accommodate The New Fence?
There are numerous reasons why you may want to change the landscaping of your yard after adding a new fence. Adding a new fence and supplemental flowers or landscaping can truly change the entire look of your home and increase its curb appeal. Additionally, some types of privacy fencing may obscure the sun from parts of your lawn along its base. You may want to consider putting stones or other features along the base of your fence. It looks great, and you won't have to worry. You could also opt for plants that don't require as much sun exposure along the base of your fence.
o          Fence Maintenance?
As previously stated, wood fences require a lot of maintenance. From staining, to sealing, to repeatedly replacing rotting and warped boards. They're a pain, and if you ask us they're not worth the money it could possibly save since you'll wind up spending more down the road fixing it again, and again, and again, and again. Vinyl and aluminum fences on the other hand are virtually maintenance free. Clean them every once in a while so they look their best and that's about it. Cleaning is also a breeze, we conveniently have a blog post about cleaning vinyl fences here and one on how to keep your aluminum fence spick and span here.
***
Best Fence Company is Jacksonville's industry leader in fabrication and installation of top quality vinyl and aluminum fencing and railing. At Best Fence, our mission is to fabricate and install the highest quality product at a competitive price, while providing unsurpassed Customer Service. Fencing is an investment in your home. Your decorative fence design choice adds value to your property in a beautiful way. We provide professional FREE estimates at your convenience.  Call us today at 904-268-1638 or visit http://www.BestFenceJax.net