Did you know hurricane season officially begins next month? While it may not be the peak season the possibility of hurricanes making landfall rises with the temperatures and warming waters. It's never too early to make sure your family and property is sufficiently prepared. Waiting to fortify your home and have a plan in place can be the difference in expensive repairs or damage caused to your home or family. Here are some things to consider when preparing for hurricane season.
Have an emergency kit
During severe weather, a potentially dangerous situation can arise, and emergency services may not be able to get to you in a timely manner. Having an emergency kit or "bug-out bag" for every member of your family is highly recommended. Essentials like clean water, non-perishable food, medications, or a first aid kit seem obvious to have. However, you should also consider including other important items like water sealed important documents, flashlights, solar powered phone charger, crank powered weather radio, tarp, stormproof matches, water purification tablets, multitool, and extra cash. There is a range of other items you can include as well depending on your family's needs. Also, if you have pets don't forget to prepare an emergency kit for them containing extra food and water. Emergency kits can get expensive so the best way to build one is over the course of a few months. Even if you never use it, the peace of mind that comes with knowing you can handle almost anything is well worth the cost.
Clean drains, gutters and check your roof.
Every spring and fall season you should clean and check your gutters for build up or damage. Fallen leaves, pine needles, branches or small animals could be clogging your drains. This also includes your pool drains and filter systems, if you have one. Hurricanes bring a ton of rain and wind. If your gutters or drains are blocked, water can't flow away from your home and can seep inside causing expensive water damage to your home or outdoor items. While you're up there cleaning gutters it's also a good time to (safely) go on the roof and look for damaged or weak areas that can cause leaks or easily break from flying debris.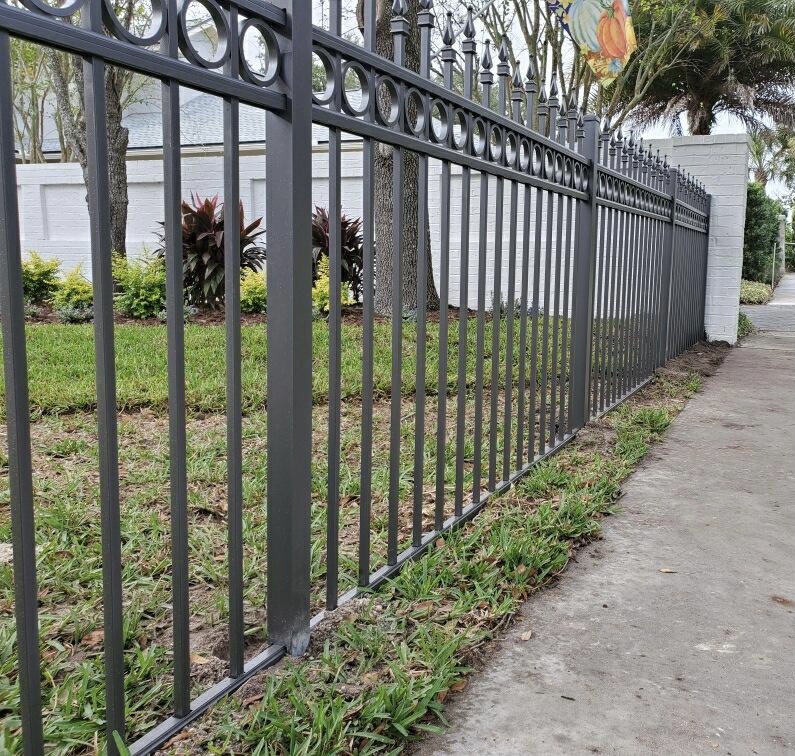 Replace your old fence
If you have an old, damaged fence now may be the time to consider replacing it before hurricane season begins. A strong fence that can withstand severe weather has many advantages and can potentially save you money from expensive repairs. Proper fencing can repeal affects from sitting water and temperature fluctuations as well as help block your home from strong winds and flying debris. Vinyl and aluminum are great fencing materials for Florida homes that deal with hurricanes and other severe weather. Vinyl fencing is flexible and can bend in strong winds without breaking as well as help protect your home from flooding. If damage does occur panels are easily replaceable and won't require the entire fence to be replaced. Aluminum is incredibly strong and can resist fast flying yard items that may be blown around during strong winds can be a good buffer for homes near trees that may fall.
At Best Fence & Rail of Florida our materials are resistant to rust, corrosion, cracking and are maintenance free. They're specifically designed to withstand Florida's hot, humid, salt-heavy environment and will look beautiful for years to come. We manufacture everything in-house and use only our own trained professional installation crews to ensure quality product and service at a competitive price. Don't wait until it too late! Start preparing your home for hurricane season today. Call us at 904-268-1639 for a FREE quote and visit our website for more information.
For more emergency preparedness information visit Ready.gov
***
Best Fence & Rail of Florida is Northeast Florida's industry leader in fabrication and installation of top-quality vinyl and aluminum fencing and railing. At Best Fence, our mission is to fabricate and install the highest quality product at a competitive price, while providing unsurpassed Customer Service. Fencing is an investment in your home. Your decorative fence design choice adds value to your property in a beautiful way. We provide professional FREE estimates at your convenience.  Call us today at 904-268-1638 or visit http://www.BestFenceJax.net