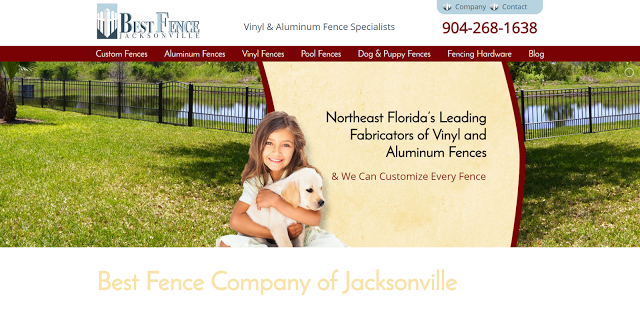 Our website recently received a makeover! Our site is now more user-friendly and interactive, which provides our customers with the best accessibility to our services.
We're also excited to announce our new location off Philips Highway and Baymeadows Road, giving our customers a more centrally located headquarters.
Best Fence Company of Jacksonville is excited to share some features from our new website! With a new responsive design and interface, customers can easily navigate our site, find answers to questions, and explore our portfolio of beautifully customized fences.
All Portfolio
Now Best Fence customers are be able to view our past work in our new slideshow portfolio. Our improved gallery includes hundreds of high-resolution photos of our previous work. This newly designed portfolio gives our customers the chance to view fence designs and customizations to find the right style and fit to build their own dream fences.
Vinyl Fences
One of Best Fence's specialties is vinyl fences, and now customers can find all the information on vinyl in a convenient page on our website. Vinyl fences are not only great for residential properties, but also commercial properties.
Aluminum Fences
Best Fence's other specialty fence is aluminum. Here, customers will find everything related to aluminum fences. Aluminum fences are a great option to enhance a home.
This page will also feature popular fence styles including the Puppy Pickett Fence, which is a hit with our customers.
Contact Form
Best Fence's new, customer-oriented contact form will be available on our desktop and mobile sites, which will give customers an easy and quick way to get in touch with us at Best Fence. We want to make your experience simple and easy.
Warranty
Best Fence's warranty page has a fresh look and contains the same great satisfaction guarantee information. All our fences come with 100 percent satisfaction guarantee and lifetime warranties.
Reviews & Testimonials
Best Fence's newly designed testimonial page will give new customers a chance to hear what other Best Fence customers love about their new fences and their experiences with Best Fence.
Career Opportunities
Best Fence is always looking for fresh, fun people to join our awesome team. On our new careers page, potential hires will be able to download a job application with a touch of a button.
Service Areas Listing
Best Fence is proud to serve these locations in Jacksonville and St. Augustine including, but not limited to: St. Johns County, Ponte Vedra. Bartrum Park, Nocatee, Palencia and more. Our new service listings page will include a map of Jacksonville and the areas we work with. As our location list grows, so do our loyal customers, so be sure to check out this page for availability in your area!
With the continued expansion of the Duval and St. Johns Counties, Best Fence is looking towards the future. Best Fence will continue to serve an ever growing Jacksonville area community and has agreements to continue working in Greenway Trails and Nocatee, among several other new developments. Keep checking our blog or other social media pages for more updates on what's new at BestFence, as we expect to be very busy!
Best Fence Company is Jacksonville's industry leader in fabrication and installment of top quality vinyl and aluminum fencing. At Best Fence, our mission is to fabricate and install the highest quality product at a competitive price while providing unsurpassed Customer Service. Fencing is an investment in your home. Your decorative fence design choice adds value to your property in a beautiful way. Your family will feel protected and you'll breathe easier knowing Best Fence installed your new fence. We provide professional FREE estimates at your convenience. Call us today at 904-268-1638 or visit www.BestFenceJax.net.
"We work hard to provide you with the Best price,
the Best quality product and the Best service you deserve"