At Best Fence and Rail of Northeast Florida, we take our jobs and products very seriously. As North Florida's lead fabricator, we know it is our responsibility to use the best vinyl and aluminum materials. We value the fact that it is not just our company that we are representing when installing a fence or railing, but that we are adding something major to your home that will last for years to come.
At Best Fence and Rail, we completely design and build our fences meaning that we can offer our high-quality products at low prices. Our company is a proud member of the North Florida Builders Association, Better Business Bureau, and The American Fence Association. We are also extremely proud to be a debt-free company. We own our buildings, manufacturing equipment, vehicles, and materials. These factors quickly add up to our very low overhead and allow us to pass the value and savings along to our clients.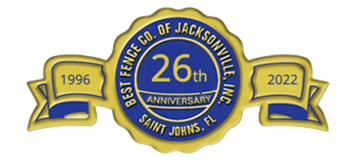 From raw materials to the finished fence product, we design and build a custom fence solution for you and your home. Our motto is "You Dream It … We Will Build It!" and we take that very seriously. Our Jacksonville computerized fabrication facility host the latest machine cutting technology, so that we can create the fence of your dreams, but also ensure that any fence or railing:
Follow the contours of your property and geographic perimeter
All material and hardware matched to compliment the exterior of your home
State pool code standards met, GUARANTEED
Wind load requirements met (a more prominent requirement in beach areas)
By fabricating each fence component in-house, we can completely control the quality of your fencing make-up and design. This coupled with our in-house installation teams, (we do not use outside contractors) ensures the "Best Fence" quality that each of our clients expects and deserves.
All of us at Best Fence and Rail of Northeast Florida are incredibly dedicated to providing each of our clients with your dream fence for the best value for your individual property. For each project, we individually coordinate your fence installation with your builder, pool company, landscapers and permitting, and any other contractors for your convenience.
Best Fence and Rail of Florida offers quality products and quality service all at a competitive price. We promise that our vinyl and aluminum fencing is maintenance free and will look beautiful for years to come. For more information on your next residential or commercial fencing and railing project, and to learn about our FREE quotes, call us at 904-268-1638 or visit our website.
***
Best Fence and Rail of Florida is Jacksonville's industry leader in fabrication and installation of top-quality vinyl and aluminum fencing. At Best Fence, our mission is to fabricate and install the highest quality product at a competitive price, while providing unsurpassed Customer Service. Fencing is an investment in your home. Your decorative fence design choice adds value to your property in a beautiful way. We provide professional FREE estimates at your convenience.  Call us today at 904-268-1638 or visit http://www.BestFenceJax.net