We don't doubt that many of you were as shocked as us to experience a hurricane in November. While many of us were thankfully still prepared following Hurricane Ian, there wasn't much time to fix damaged property before this next hit. If your fence sustained damage from Hurricanes Ian and Nicole, here are some tips on how to begin the recovery process.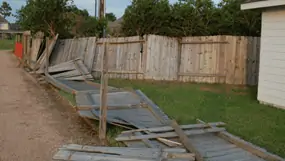 Tip 1: Fix Any Small Damages Yourself
If you find there are only a few small damages to your fence that can be fixed without presenting danger to you or others, those can be easy to fix. If there are areas that need to be repainted, use chalk to circle areas in need of touch, then make repairs when the weather is right for painting. Make a list of any loose fasteners and nails that can be easily purchased from local hardware stores. Small fixes such as these can often be made within a day or two and don't need the involvement or expense of insurance companies or fencing companies to correct.
Tip 2: Contact your Insurance Company
If your fence is covered under your home/renters/fence insurance, contact your insurance company to report any damage. Often, storm damage caused by heavy winds and/or rain will be covered under home insurance policies. Having an insurance adjuster examine your fence to find out how much it will cost to repair. Sometimes, insurance companies will cover repair costs. If there's a significant amount of damage to fences, however, it might be too expensive to have repaired.
Tip 3: Purchase a New Fence
Sometimes, there has just been too much damage to repair. In these cases, it's often more cost-efficient to build a new fence rather than paying to fully repair your old one. If your fence is made of wood or cheap vinyl, replacing it with a strong aluminum or vinyl fence will ensure it withstands next year's storms. At Best Fence & Rail, our fences are manufactured in Florida for the Florida climate. Our aluminum fencing finish has been tested in our hot, humid, high-salt environment and surpasses the 10,000 hour Salt Spray Test (ASTM B-117), which is three times greater than the AAMA 2604-20 specifications. Our vinyl fences are constructed with top-quality, heavy-walled extrusions, that will not will not pit or corrode and is virtually impervious to Florida's hot, humid weather, and highly corrosive saltwater environment. Our fences will remain standing and beautiful for years to come.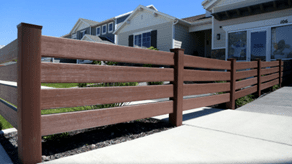 At Best Fence & Rail of Florida, we've been here for over 25 years and know how unpredictable and damaging hurricane season can be. That's why we offer beautiful aluminum or vinyl fences that are proven to withstand the Florida weather. To learn more, visit our website today.
***
Best Fence and Rail of Florida is Jacksonville's industry leader in fabrication and installation of top-quality vinyl and aluminum fencing. At Best Fence, our mission is to fabricate and install the highest quality product at a competitive price, while providing unsurpassed Customer Service. Fencing is an investment in your home. Your decorative fence design choice adds value to your property in a beautiful way. We provide professional FREE estimates at your convenience. Call us today at 904-268-1638 or visit http://www.BestFenceJax.com.