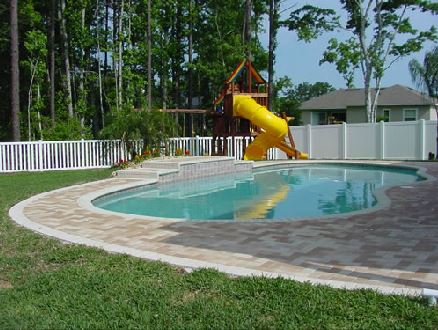 When you think of a fence surrounding a pool, what type of fence do you envision? Most of the time, it's an aluminum fence. Aluminum fences are great options for simplicity, stability and reliability, but have you ever considered what a vinyl fence could do for your backyard? Vinyl fences can add the decorative style you've been looking for, they can give you more privacy, and you get the same security and reliability that you get with our aluminum fences.
Getting Stylish
Our Vinyl fences come in 3 different colors: classic white, tan and khaki. Changing the color of your fence alone can change the whole dynamic of your backyard. If you really want to impress the people swimming in your pool this summer, Best Fence offers 6 different privacy fence styles, 4 different semi-private fence styles, and 11 different picket/ornamental style fences. This is where you get creative, and Best Fence can fabricate whatever style pool fence you dream up!
Getting Private
You may work hard to keep your backyard and your pool in pristine condition. If that's the case, you certainly don't want all the neighborhood kids hopping your fence and mucking up the place! An easy fix for this is getting a tall, vinyl privacy fence installed courtesy of Best Fence. These fences are built to last, are great for kids and pets, and will allow you to experience your pool and backyard in full privacy.
Getting Secure
Best Fence can make sure your gate closures are as secure as possible with our vinyl pool code fence. We also fabricate all of the hardware such as hinges and locks ourselves, so we can guarantee its reliability. Our vinyl fences are strong too, they won't deteriorate, crack or warp in Florida's highly corrosive saltwater environment. On top of that, Best Fence will make sure that your new fence meets all safety regulations and keeps up with all HOA and county inspector requirements.
So if you need a little more style, privacy and security added to your pool area, then a vinyl fence from Best Fence may be right for you. Call us at 904-268-1638 or visit https://www.bestfencejax.net/pool-fences/ to get the ball rolling!
***
Best Fence Company is Jacksonville's industry leader in fabrication and installation of top quality vinyl and aluminum fencing. At Best Fence, our mission is to fabricate and install the highest quality product at a competitive price, while providing unsurpassed Customer Service. Fencing is an investment in your home. Your decorative fence design choice adds value to your property in a beautiful way. We provide professional FREE estimates at your convenience.  Call us today at 904-268-1638 or visit http://www.BestFenceJax.net