Did you know that July is National Grilling Month? After a year stuck inside without much social interaction, backyard grills are the perfect way to hang out with your friends and family in a safe, open environment. Whether for the Fourth of July or just a nice weekend get-together, backyard barbecues are the perfect way to spend time together. However, a grill, food, family and friends aren't the only essential pieces for a good backyard grill—a strong privacy fence is essential to having a secure and private space for family and friends to hang out. Plus, it can be a beautiful, ornamental addition to your home.
Privacy
Fences are great because they can offer privacy to your home and backyard.  With a privacy fence, you can enjoy time in your backyard with family or friends without worrying about nosy onlookers. It is also better to help give kids and pets a guarded place to play. A proper privacy fence gives your desired level of privacy while still looking sleek and beautiful. With custom design options, our fences will follow contours of your property and geographic perimeter with material and hardware matched to compliment the exterior of your home. A good privacy fence elevates your typical backyard cookout to a relaxed and fun private event—almost like renting out an entire outdoor restaurant for all your loved ones.
Raise Property Value
Whether you are planning to someday sell your home or simply want to keep it modern, a fence is a great investment into your home. Having a fence is a great way to enhance your home's look and raise curb appeal. Chain and wooden fences don't add much to the resale value and costly maintenance and upkeep. Aluminum and vinyl are some of the most popular fencing materials, are maintenance free and highly durable so your fence will look beautiful for years to come. Installing a fence means not just showing off your grilling skills during outdoor barbecues, but the beautiful new addition to your home a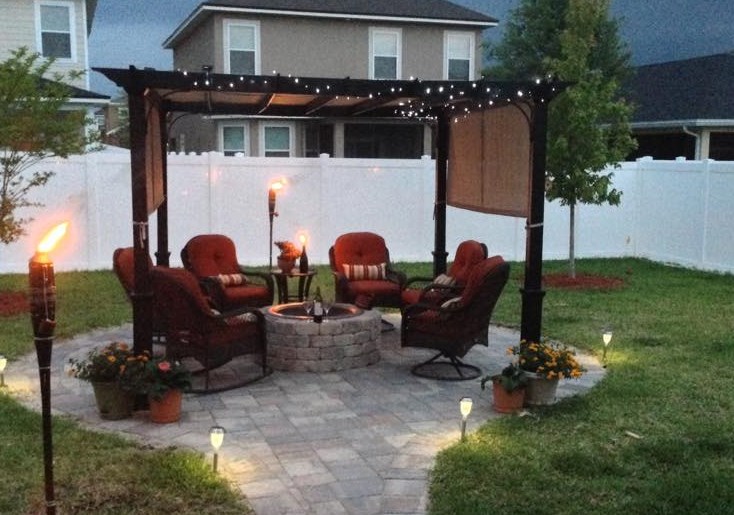 Security
A fenced backyard not only spruces up the look and value of your home but also aids in defining your backyard's property lines. The last thing you want to happen during a summer cookout is for a child or pet to wander off or for nosy neighbors or critters welcoming themselves to the party. Fences don't just add the privacy of people being unable to look in, but it also keeps guests secure in an enclosed space and keeps unwanted guests out. Our fences are matched with Safetech ViperLatch or Safetech TriLatch technology. The SafeTech ViperLatch is a general-purpose gravity latch that's key lockable and can be designed to fit most traditional house keys. The Safetech TriLatch, which is a magnetically triggered gate latch that never loses power and experiences no mechanical interference offering extreme reliability and child resistance. These locks are an added level of security to your fence. With a beautifully defined, enclosed space, your backyard will feel complete and look more cohesive with the rest of your home.
If you're interested n stepping up your backyard barbecue space this National Grilling month, look no further than Best Fence & Rail of Florida. We are Northeast Florida's premier vinyl and aluminum fencing and railing specialist. For over 25 years we've been providing quality product and quality service for residential and commercial clients. We are the fabricator which means we can customize every fence and rail at a competitive price. We use only our own in-house professionally trained installation crews to ensure our clients receive the quality and service they deserve. Call 904-268-1638 for a FREE quote today!
***
Best Fence & Rail of Florida is Northeast Florida's industry leader in fabrication and installation of top-quality vinyl and aluminum fencing and railing. At Best Fence & Rail of Florida, our mission is to fabricate and install the highest quality product at a competitive price, while providing unsurpassed Customer Service. Fencing is an investment in your home. Your decorative fence design choice adds value to your property in a beautiful way. We provide professional FREE estimates at your convenience.  Call us today at 904-268-1638 or visit http://BestFenceJax.net